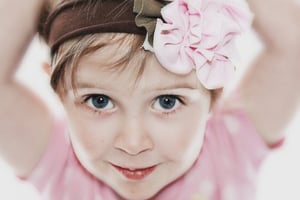 $

5.00
Such an adorable and fun accessory - not to mention a great photo prop! With a fantastic dark brown cotton type stretchy elastic band, this accessory will fit size infant to teenager. It would fit an adult with a small head comfortably as well :) Cute light pink, cotton candy colored pinwheel type circles included along with a couple army green added on the ends acting as leaves. Sassy indeed!
This headband is darling as is - but if you desire, you can embellish with your own creative whimsy - making a whole new look to sell in your own boutique or shop. The groundwork's been done for you! Want several of the same kind? Add more with the drop down menu once you've placed this item in your cart.
The elastic band measures about 1.5 inches in width when folded on itself. It can be made wider by unfolding it, with a total width of 3.25 inches. The band is partially unfolded in the photos. The pin wheel type circles measure about 2-2.25 inches in diameter each making the whole grouping about 3.5 x 4.5 inches.